It was a great experience to opt Dr Malay Mehta's Aesthetic Clinic for many reasons. Consultation is free and detailed. Everything about the procedure and cost is well explained by assistants followed by detailed information by Dr Malay himself. No hidden charges or surplus amount is charged. The overall process is very transparent. And the best part about Dr Malay is he makes sure that the hairline is in sync with your face. Basically he tries to keep it natural. Aesthetic sense , precision and hygiene in this procedure is a crucial part and that is what probably sets him apart from all others. Coming to the actual procedure, the clinic is clean and the staff is friendly. They make sure that procedure remains painless and you're comfortable, it's a priority for them. All your doubts are cleared at any point of time so you can be stressfree.. Dr. Malay is always available for any pre/post procedure queries. Overall my experience at Dr. Mehta's clinic was great and it was a wise decision to opt this clinic for my hair transplant procedure. I am very happy with the results. It has almost been 6 months after procedure. Hairline looks good. I would definitely recommend Dr. Mehta.
Sainath Prabhu
2022-12-04
Hello Everyone. Its been more than a year I had my hair transplant done from this clinic and I must say it has been one of the best decisions of my life. The results are amazing. Initially I was skeptical as I had crown balding and most of the doctors were not very positive about crown transplant but I must confess Dr Malay handled my case very efficiently and cleared most of my doubts which others could not. He gave me the confidence to go ahead with the surgery and so fars the results have been great. All the technicians are really polite and helpful and make the surgery procedure seem like a cakewalk . I will surely recommend Dr Malay for all hair related problems as he is one of the few doctors who is really passionate and has thorough understanding of his craft.
Dr Mehta, Dr Chervi and there team - Implanter Prarthesh and Akshay, Helpar Vishal Mishra, the reception staff Shanjana, and the whole team, were amazing, as they knew I was travelling from aboard they ensured my medication was ordered in advance an handed to me, the staff are very welcoming, Mr Malay vision on customer services is reflected in there staff. Can't wait to see them in 6 months, definitely bringing chocolate
Prof. Mahesh Agrawal
2022-10-23
Highly safe and hair transplant by an expert of top most rank. Far better than many many famous clinics. Reasonable and logical. ***** OUT OF FIVE IN MY EXPERIENCE!
dheeraj pardesi
2022-10-21
Great Dr and his team, I have had my HT done from another Dr, and the results were not good at all, After going with the procedure with Dr Malay the results are great infact he has done a correction surgery as well, Mine was a difficult case since I had weak donner area, But Dr suggested a beard transplant as well which resulted a decent outcome, (just 7 months as of now) So guys if you have had a surgery before or have a problem Donner area and especially if all hope is lost with other Dr's, then Dr Malay Mehta is the Man for you. he is young, skilled, passionate about his job and very practical,
Dattatreya Vyas
2022-10-18
The staff is highly professional blessed with a great leader in the form of Malay sir. Everything is as it should be. Extremely caring staff. Great post treatment support from the team. Would strongly recommend this team and Doctor Malay Mehta.
Govind Raj Ayyengar
2022-10-06
Hi, I have visited this clinic from Melbourne to get a minor hair transplantation on my crown area. I have been talking to Mamta (admin) and Dr Malay for more an year but couldn't travel due to the COVID restrictions. I have finally made it here and got my procedure done. The entire team is professional and been very patient throughout my journey. Team refused to take any tips. Special thanks to Dr Malay, Mamta (admin), Dr Charvi, Prathamesh, Shashank, Aditya (technicians).
Dr Metha and his staff are really amazing, initially when I went to his clinic, he sat down he with and explained to me the entire procedure and cleared any doubts that I had in my mind. After speaking with Dr Metha I decided to go ahead with the procedure, which was done very smoothly, after 8 months I am very happy with the results and also it's very comforting that Dr Metha and his staff ask me to come for follow up sessions to make sure everything is alright.
shashank shetty
2022-09-26
Dr Malay mehta … Boy!!! he is the best in his business. Almost after 6 months of sniffing around for best hair transplant surgeons in mumbai based on reviews, follow ups and other factors i shortlisted him.During my first visit he thoroughly examined my head and told what needs to be done and he is polite, calm and friendly and he brought me into confidence and i was good to go for the transplant procedure. Transplant day (2 days) - 1st day - 2800 graft of hair follicle 2nd day - 2000 graft of hair follicle. Procedure - FUE saffire. Procedure was as smooth as i had imagined. His team is amazing and big thanks to all of them to support during the procedure stages . Dr Malay was present through out the procedure and the OT is very well maintained with proper housekeeing and hygiene being too notch. Post procedure is had some queries and doubt and dr malay is spontaneous on replying to all your queries on whatsaap when needed. In short to sum it all —- I have had a fantastic experience with Dr Malay and team and result is pretty evident and would highly highly recommend Marvel clinic for hair transplant procedure. Cheers 🥂
Different hair transplantation methods
If you are dreaming of long, luscious hair but struggling to grow it naturally,
Dr Malay Mehta can help.
With his long hair transplantation, Mumbai men can enjoy a full head of long hair.
Dr Mehta performs industry-leading transplants for men suffering hair loss that will give you a confidence boost and a full head of hair. Read on to learn more about the procedure and its benefits.
There are two methods of hair transplant in Mumbai, each suited to the patient's unique situation. The first involves taking hair follicles from the back of the head, transplanting them to any bald areas. If there is limited donor hair on their scalp, a Body-to-Scalp hair transplant is used instead. 
In this procedure, hair is taken from other areas of the body, such as the chest, back or beard. Dr Malay will assess your situation to determine which would be best for your long hair transplant in Mumbai.
See our hair loss client's success with
long hair transplant in Mumbai
Dr Malay has completed may successful long hair transplants.
The hair looks natural, thick and lushes. The difference this procedure makes is very noticeable.
Age: 55
Challenge: Norwood Hamilton grade of baldness 5
Grafts implanted: 4500
Results: Natural looking hairline. Photo shows results after 1 year.
Age: 28
Grade of baldness: 4
Grafts: 3500
Result after 1 year.
Age: 37
Grade of baldness: 5
Grafts implanted: 4509
What is long hair transplantation?
A long hair transplant in Mumbai avoids the need for shaving. In this technique, we maintain the length of hair from the donor or the recipient area. As one of the newer techniques for a hair transplant in Mumbai, this can help speed up the process of enjoying a full head of hair at varying lengths.
How is the hair transplantation
performed with long hair?
In this hair transplantation technique, we do not shave the hair, collecting longer hair on the donor area and implanting it into areas with hair loss. The remaining operational and post-op process is the same as a traditional hair transplant method.
We mark the thinned area with a medical pen, then grafts are collected from the back of the hair, and genetically permanent hair roots are implanted in the areas that require them for a natural head of long hair.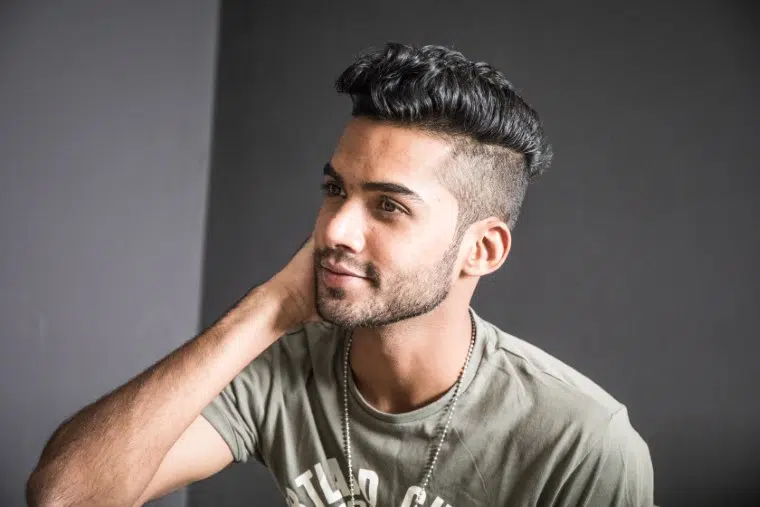 Benefits of long hair transplantation for Mumbai Men
There are a number of reasons why men may opt for a long hair transplant with Dr Mehta, including:
The fast assurance of regular long hair look
An unnoticed postoperative period (when compared with other standard hair transplant techniques)
An excellent hair volume in a shorter period (great for those planning for marriage or other events with short notice
Achieve the look after one year in one session
See a huge boost to your confidence and self-esteem
How much does long hair
transplantation cost in Mumbai?
The cost of a long hair transplant will vary for each patient, depending on several different factors. The number of grafts you require is the primary determining factor, which can cost anywhere from Rs 40 to Rs 120.
A hair transplant usually requires between 1000 to 3000 grafts, but to understand an accurate cost for your situation, we recommend you book a consultation with Dr Mehta today.
How can Dr Mehta help with Long Hair Transplantation?
Dr Malay Mehta has travelled, studied and worked all over the world and has a degree in MBBS, MD – Dermatology, Venereology and Leprosy. Backed with years of experience in the field, he is now known as the best hair transplant surgeon in Mumbai.
His passion for long hair transplantation and treatments stems from a need to lift his community, so they feel comfortable in their skin. The result is his renowned hair transplant work, creating a natural look while using advanced, safe techniques at an affordable price.
Frequently Asked Questions
Do you have some more questions about long hair transplantation or hair loss? Our helpful FAQ may answer them:
Wondering How Severe Is Your Hairloss
Take this quick quiz to find out if you need to worry about your hair loss.