How do I know that I need
hairline reconstruction surgery?
Most of us have been teased by it, but we never realized it would get to a point of surgery. That's right, a receding hairline.
Something that occurs completely out of our control and can truly diminish our confidence. So, what can you do to help? Well, you're in luck.
This is where the Malay Mehta Aesthetic Clinic comes in. Dr Malay Mehta is an expert hair transplant surgeon in Mumbai, India that can help reconstruct your hairline, reduce your forehead size, and have you walking out of the clinic with a newfound sense of confidence you've never had before.
Excited? Keep reading to find out just how Dr Malay Mehta can provide the leading hairline reconstruction Mumbai residents can have.
Larger foreheads and receding hairlines can occur due to various reasons, whether that may be genetic, medical, or even cosmetic. Additionally, many of you who suffer from alopecia areata may be subjected to male pattern baldness which is a leading cause of thinning hair and hair loss.
So how can you tell you have a receding hairline? Well, first of all, your hair will start to recede above your temples. From there, the hairline will gradually move back across the top of your head, usually leaving an "M" shape. The sides and back of the head can eventually become bare.
A receding hairline can affect both men and women. The techniques used for hair restoration are similar, and the right technique for you will be decided upon during your initial consultation with our experienced surgeon.
HAIRLINE RECONSTRUCTION BEFORE AND AFTER IMAGES
Challenge: It's relatively easy to hair transplant but it's one of the most difficult when we deliver undetectable hairline with higher density.
Result: You can see the difference in hairline s created by us and their density compared to our competitors.
Challenge: It's relatively easy to hair transplant but it's one of the most difficult when we deliver undetectable hairline with higher density.
Result: You can see the difference in hairline s created by us and their density compared to our competitors.
Challenge: It's relatively easy to hair transplant but it's one of the most difficult when we deliver undetectable hairline with higher density.
Result: You can see the difference in hairline s created by us and their density compared to our competitors.
Challenge: Grade 6 baldness
Age: 28
Grafts: 5231
Type of surgery : Sapphire FUE
Result after1 year
This patient age 34 decided to push hairline forward and even he was looking less mature compared to his age, the desire to get fully grown beard was also in his mind.
We implanted close to 2700 grafts on scalp for hairline and temple area.
For beard, we implanted 2400 grafts.
Result is seen in day 7 post surgery.
Final result is expected around 6-8 months.
Age: 27 Male
Number of grafts implanted: 3400
Result: 8 months post surgery
Natural looking hairline is the hallmark of our clinic, it's impossible for other person to recognise that we have done hair transplant for him.
Procedure: Sapphire FUE
PAIN: no to minimal as procedure is done under local anaesthesia with adavanced instruments
Age: 32
Grafts implanted: 4500
Patient expectation wants to improve volume and to achieve natural looking hairline.
Type of surgery: Sapphire FUE
RESULT: 8 months post surgery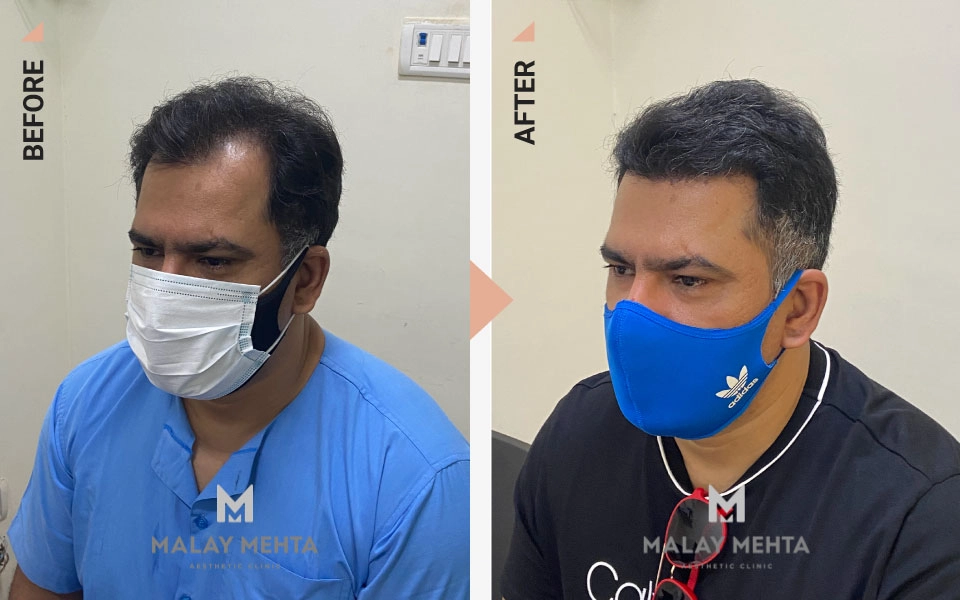 Age of patient: 44
Procedure: Sapphire FUE
Hairline reconstruction along with crown area volume is achieved.
Grafts: 4200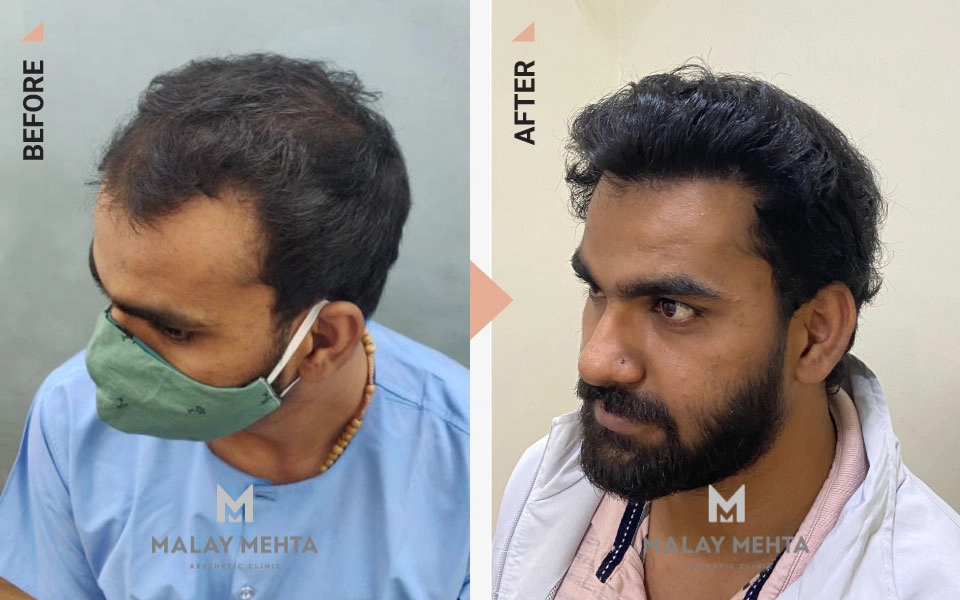 Age: 31
Grafts: 3200
Result at 10 months
Procedure: Sapphire FUE
Age: 49
Procedure: Sapphire FUE
Grafts: 4700
Result: 6 months, final result is expected at 12 months
Do recognise hairline and temple area.
Age: 34
Hair grafts: 4200
Procedure: Sapphire FUE
HAIRLINE WAS RECONSTRUCTED and volume was achieved.
Age: 33
Procedure: Revision surgery
Patient was not happy for the first surgery then he decided to do revision because of un natural hairline and poor volume.
We implanted hair grafts close to 4600
3000 for scalp
1600 from beard
This is five months result and final result is expected at 12 months.
Challenge: depleted donor area because of the first surgery. We have over come that by using the micro punch at the scalp and used some grafts of beard region.
Hairline restoration and hairline reconstruction surgery can be used to bring back balance to your facial structure and help boost your self-esteem. And so, if you have ever thought to yourself "am I a good candidate for hair restoration surgery?" Then take a look at our checklist below.
Do you have a higher-than-average hairline and wish for it to be lowered?
Do you feel like you have a large forehead and wish for it to seem smaller?
Have you recently had a hair grafting procedure and want to increase your hairline?
Have you recently had a brow lift procedure and want to bring your hairline more in line?
These criteria are not specific. If you want to know more, we recommend you arrange a consultation with Dr Mehta to identify whether you are an ideal candidate for this procedure.
Hairline Reconstruction Techniques
To create a new hairline, Dr Mehta will have to perform a hairline reconstruction in Mumbai using one of two techniques – his renowned sapphire FUE technique, or by a surgical hairline advancement surgery.
FUE Hairline Reconstruction
The FUE hair transplantation involves grafting hair from donor areas found on the back and side of your scalp. This donor area will be higher in hair density and have more healthy hair follicles. Once the hair follicles are extracted, they are preserved in a sterile plasma solution before being implanted using a specialized sapphire tool to help perform perfect, small incisions.
Hairline Advancement Surgery
Hairline advancement surgery, otherwise known as hairline lowering surgery is an effective procedure that helps produce subtle and natural results. This procedure involves shortening the forehead whilst simultaneously moving the hairline forwards.
During this procedure, an incision is made at the top of your forehead, right along the hairline. The hairline is then brought forward, and excess forehead skin is removed. The incision is then sutured.
WHAT SHAPES OF RECEDING HAIRLINES CAN GET HELP?
A hairline that seems to move further up your forehead is often the first sign of pattern baldness. This condition can affect both men and women and present in multiple ways. A "V" or "M" shape is commonly seen in more severe receding hairlines.
Dr Mehta uses is expert hair fall transplant procedures to treat a number of receding hairlines including:
Horseshoe hairline – If the hair begins to recede in an uneven pattern and forms an 'M' shape on your forehead, then this can be referred to as a horseshoe hairline.
Triangular hairline – This particular form of hairline recession occurs lower on the temples and rises towards the center of the head.
Cowlick – Sometimes small sections of hair may grow in different directions, causing the illusion of a bigger forehead.
Our hairline reconstruction treatment in Mumbai ensures that your receding hairline is cured. You can expect results to show within 4 months, and have a completely new hairline within 12 months.
HOW LONG IS THE RECOVERY TIME?
Our treatment can make you look years younger and significantly boost your confidence. However, as with any other surgery, you are to expect some side effects during recovery, including:
Donor and recipient site pain and discomfort
Site bleeding
Scalp and face swelling
Scabbing or dryness
However, to minimise these side effects, we highly suggest you follow your doctor's post-procedure instructions such as completing any recommended course of painkillers or antibiotics, avoiding strenuous exercise, and avoiding the use of styling products until you are told to do so.
Full recovery is expected around 12 months. The time leading up to your full level of maturation includes:
Months 0-4 – Pain and swelling should subside within 3 weeks, after which your new follicles will begin to work their magic and start the new hair growth cycle.
Months 4-8 – The hair will finally start growing on the hairline. The new hair may be thin to start but should thicken over time.
Months 8-12 – This is the final stage of your healing process and is often referred to as the maturation phase. The hair starts to thicken, reaching 80% capacity and your hair will be long enough to be styled.
BENEFITS OF HAIRLINE RECONSTRUCTION PROCEDURE
Hairline reconstruction and restoration surgery have various health benefits. Some of the most noteworthy benefits and advantages are listed below:
Improve appearance – restore a subtle, natural, smaller forehead look and a fuller hairline
Permanent – hair transplant surgery is a permanent solution to your hair loss. The new hair follicles will continue to promote hair growth, ensuring you look great for as long as possible.
Confidence – A boost in self-esteem and confidence can help you tackle obstacles in life that you never thought you'd be able to.
Mental Health – Alongside a boost in self-esteem, hair transplantation can help remove anxieties associated with the way you look.
As you can see, a hairline reconstruction procedure can help completely restore your hairline to its original, natural state. If you feel you need a hair transplant but are unsure of when you can get it, then get in touch with us today!
HOW MUCH DOES HAIRLINE
RECONSTRUCTION COST IN MUMBAI?
Hairline reconstruction and transplantation using the FUE method is a successful procedure that is heavily sought out all over the world. However, at the Malay Mehta Aesthetic Clinic, you won't just be given a standard price. Our cosmetic specialists will carry out a comprehensive consultation to identify just how many grafts you may need before quoting a price that is specifically tailored to you.
Prices start at just 7,000 INR per 1,000 grafts per month which is an unbeatable cost in India! Better yet? You can opt for a 0% finance plan and pay for your treatment over 8 months!
Why Choose Malay Mehta Aesthetic Clinic
Having started practising his expertise in the suburbs of Gujarat, Dr Malay Mehta was seen as a phenomenal hair transplant surgeon. Dr Malay Mehta's art did not go unnoticed, and so he decided to further improve his hair transplantation techniques by travelling the world and studying abroad.
Dr Malay Mehta has an MD in dermatology, leprosy, and is a leading cosmetic surgeon in India. Having learned a variety of wonderful techniques, Dr Mehta decided to come back to India and offer his new skills to his home community. So, if you're looking for the best hairline reconstruction surgery in India, make sure to visit the Malay Mehta Aesthetic Clinic and find out just how you can thrive within your community.
If you have further questions about the hairline reconstruction procedure, then take a look at the section below and see if we can help.
Wondering How Severe Is Your Hairloss
Take this quick quiz to find out if you need to worry about your hair loss.