It was a great experience to opt Dr Malay Mehta's Aesthetic Clinic for many reasons. Consultation is free and detailed. Everything about the procedure and cost is well explained by assistants followed by detailed information by Dr Malay himself. No hidden charges or surplus amount is charged. The overall process is very transparent. And the best part about Dr Malay is he makes sure that the hairline is in sync with your face. Basically he tries to keep it natural. Aesthetic sense , precision and hygiene in this procedure is a crucial part and that is what probably sets him apart from all others. Coming to the actual procedure, the clinic is clean and the staff is friendly. They make sure that procedure remains painless and you're comfortable, it's a priority for them. All your doubts are cleared at any point of time so you can be stressfree.. Dr. Malay is always available for any pre/post procedure queries. Overall my experience at Dr. Mehta's clinic was great and it was a wise decision to opt this clinic for my hair transplant procedure. I am very happy with the results. It has almost been 6 months after procedure. Hairline looks good. I would definitely recommend Dr. Mehta.
Sainath Prabhu
2022-12-04
Hello Everyone. Its been more than a year I had my hair transplant done from this clinic and I must say it has been one of the best decisions of my life. The results are amazing. Initially I was skeptical as I had crown balding and most of the doctors were not very positive about crown transplant but I must confess Dr Malay handled my case very efficiently and cleared most of my doubts which others could not. He gave me the confidence to go ahead with the surgery and so fars the results have been great. All the technicians are really polite and helpful and make the surgery procedure seem like a cakewalk . I will surely recommend Dr Malay for all hair related problems as he is one of the few doctors who is really passionate and has thorough understanding of his craft.
Dr Mehta, Dr Chervi and there team - Implanter Prarthesh and Akshay, Helpar Vishal Mishra, the reception staff Shanjana, and the whole team, were amazing, as they knew I was travelling from aboard they ensured my medication was ordered in advance an handed to me, the staff are very welcoming, Mr Malay vision on customer services is reflected in there staff. Can't wait to see them in 6 months, definitely bringing chocolate
Prof. Mahesh Agrawal
2022-10-23
Highly safe and hair transplant by an expert of top most rank. Far better than many many famous clinics. Reasonable and logical. ***** OUT OF FIVE IN MY EXPERIENCE!
dheeraj pardesi
2022-10-21
Great Dr and his team, I have had my HT done from another Dr, and the results were not good at all, After going with the procedure with Dr Malay the results are great infact he has done a correction surgery as well, Mine was a difficult case since I had weak donner area, But Dr suggested a beard transplant as well which resulted a decent outcome, (just 7 months as of now) So guys if you have had a surgery before or have a problem Donner area and especially if all hope is lost with other Dr's, then Dr Malay Mehta is the Man for you. he is young, skilled, passionate about his job and very practical,
Dattatreya Vyas
2022-10-18
The staff is highly professional blessed with a great leader in the form of Malay sir. Everything is as it should be. Extremely caring staff. Great post treatment support from the team. Would strongly recommend this team and Doctor Malay Mehta.
Govind Raj Ayyengar
2022-10-06
Hi, I have visited this clinic from Melbourne to get a minor hair transplantation on my crown area. I have been talking to Mamta (admin) and Dr Malay for more an year but couldn't travel due to the COVID restrictions. I have finally made it here and got my procedure done. The entire team is professional and been very patient throughout my journey. Team refused to take any tips. Special thanks to Dr Malay, Mamta (admin), Dr Charvi, Prathamesh, Shashank, Aditya (technicians).
Dr Metha and his staff are really amazing, initially when I went to his clinic, he sat down he with and explained to me the entire procedure and cleared any doubts that I had in my mind. After speaking with Dr Metha I decided to go ahead with the procedure, which was done very smoothly, after 8 months I am very happy with the results and also it's very comforting that Dr Metha and his staff ask me to come for follow up sessions to make sure everything is alright.
shashank shetty
2022-09-26
Dr Malay mehta … Boy!!! he is the best in his business. Almost after 6 months of sniffing around for best hair transplant surgeons in mumbai based on reviews, follow ups and other factors i shortlisted him.During my first visit he thoroughly examined my head and told what needs to be done and he is polite, calm and friendly and he brought me into confidence and i was good to go for the transplant procedure. Transplant day (2 days) - 1st day - 2800 graft of hair follicle 2nd day - 2000 graft of hair follicle. Procedure - FUE saffire. Procedure was as smooth as i had imagined. His team is amazing and big thanks to all of them to support during the procedure stages . Dr Malay was present through out the procedure and the OT is very well maintained with proper housekeeing and hygiene being too notch. Post procedure is had some queries and doubt and dr malay is spontaneous on replying to all your queries on whatsaap when needed. In short to sum it all —- I have had a fantastic experience with Dr Malay and team and result is pretty evident and would highly highly recommend Marvel clinic for hair transplant procedure. Cheers 🥂
Best Clinic for a Hair Transplant in Mumbai
Dr Malay Mehta's hair transplant clinic is renowned for its superior results, performed with artistry and superb technical skill.
Marvel Skin and Hair Clinic was established in 2018. Dr. Malay Mehta is the founder of the clinic. He has done MBBS and MD in dermatology, venereology, and leprosy. He is among the best known hair transplant surgeons and dermatologists. Our hair treatments have attained the best results for patients in Mumbai and travellers from abroad, and our clinic is known as the one to beat for a hair transplant in Mumbai.
Real patients – real results. Check our before & after hair transplant patient photo gallery.
WHY


CHOOSE
Dr. MALAY
MEHTA
Malay Mehta Aesthetic Clinic is one of the oldest in the field. Dr. Malay Mehta holds a degree in MBBS, MD – Dermatology, Venereology & Leprosy. With several years of experience in the field, he has earned the name and fame as the best hair transplant surgeon in Mumbai.
While we are known for achieving far superior results than the industry average, we also know when to say "No". It is as important to understand and acknowledge when a procedure would not bring the desired results or could even harm the patient.
Best Price and Maximum Viability Rate Guaranteed
We are known for offering the cheapest hair transplant in and around Andheri, Mumbai, while achieving the best results in the industry. Grafts viability rate is 98-100%, while industry's average is about 50%, as per independent studies.

We Correct
Failures from
the Past
Had a hair transplant in the past that went wrong? We also specialize in rectifying or repairing previously failed cases.
6 Steps to Your Hair Transplant
1
Book a consultation in person or online by filling in the form on our website or by calling us on 91 – 7045291747. If you'd like to have an online consultation, please upload your pictures of your head region from five different direction which are front, top, back and both the sides. This can be done when submitting the consultation form.
2
On the consultation Dr Mehta will advise you on the number of grafts needed for sufficient coverage, the possibility of harvesting from different areas, the estimated duration of the procedure, the extent of coverage offered by each option, and the approximate cost of the surgery.
3
After understanding the procedure and clearing your doubts, you may proceed with booking a surgery. Our staff will provide you with a tentative surgery date which you can confirm depending on your availability.
4
Around one to two weeks before the scheduled surgery date, you will receive a call providing you with instructions on how to prepare for the surgery. This will include shaving or trimming hair donor areas (if necessary) and any prescribed medication you need to take.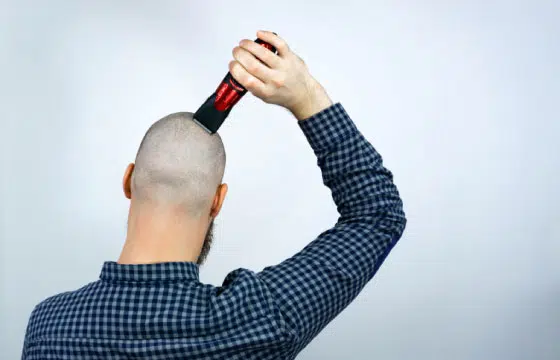 5
The day before your scheduled surgery, we will provide you with instructions regarding the medications you need to take, the time you need to report to the clinic, preferred clothing, and any other necessary details. We recommend wearing a comfortable shirt after the surgery instead of a t-shirt.
6
On the day of your surgery, you will arrive at the clinic, guided by our staff. Dr. Mehta will design your hairline and determine how much area can be covered with available grafts. After a brief explanation of the procedure, you will be informed of the approximate completion time, allowing you to arrange your plans. You will then change into appropriate attire, and your blood will be collected for reports.
Take our Quick Hair Loss Quiz
Find out the best treatment for your hair loss today
Dr Malay Mehta began his career in the small area of Gujarat where his passion for serving his local community was instilled.
A s his career and skills grew, Dr Mehta travelled, studied and worked all over the world, but was always drawn home by his care and love for the local community. Thanks to his skills and high-quality level of work, Dr Mehta made his way to the heart of Mumbai where he is the director of Malay Mehta Aesthetic Clinic. With a degree in MBBS, MD – Dermatology, Venereology and Leprosy and many years of experience in the field, Dr Mehta has garnered the reputation of the best hair transplant surgeon in Mumbai.
Dr Mehta understands how confidence and comfort in one's appearance have positive ripples throughout every facet of their lives. As a result, his passion for body and face sculpting is driven by a need to lift his community up, helping them to feel comfortable in their skin and achieve their goals.
While studying in Gujrat, Dr Mehta found his calling in cosmetic procedures based on his love and skill for drawing, sketching and painting. The science and art combined beautifully for Dr Mehta, offering a perfect match between his passion and the profession he was studying. The art of crafting the perfect look for each of his patients is something that Dr Mehta has perfected over the years to now offer such outstanding results.
Dr Mehta's fame has come from his hair transplant work where he is known for creating a natural look via advanced, safe techniques at a price everyone can afford. This is how Dr Mehta serves his community; benefit from his skills and boost your confidence by booking a consultation today.
"This was truly the best decision I ever made in my life"
AAYUSH PARMAR
I went through hair transplant treatment 8 months ago. Previously I thought changing the look is a marketing gimmick and it would not help in building my confidence. But believe me, it did really happen.
This treatment had immensely helped me in improving my professional career and also helped me in developing my confidence in interacting personally with people around me. I am very thankful to Dr. Malay Mehta as he has done a fantastic job. He is undoubtedly the best hair transplant surgeon in Mumbai. I highly recommend Dr. Malay Mehta. Thank you so much.
"Now I am using hair style products without worrying about losing my hair"
AAYUSH PARMAR
I was suffering from hair fall problem because of my stress and lifestyle. Before visiting Dr. Malay Mehta, I consulted many doctors regarding this issue but all that was in vain. Finally I consulted Dr. Malay Mehta and he explained me the reason for hair fall and also focused on importance of diet
He suggested me medicines along with PRP treatment. Initially my hair fall stopped but within just six months I started experiencing regrowth of my hairs. Now I am using hair style products without worrying about losing my hairs. Thank You Doctor.